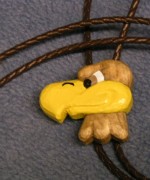 Bolo ties are available if you prefer to wear a tie as opposed to the traditional neckerchief slide.
Most neckerchief slides in our 'hand carved slides" section can be modified to become a bolo tie.  Please email which slide you would like and we will let you know for sure if it can become a bolo before you order.  Email us if you have any other questions also.
The cords on our bolos are brown braided leather with gold tips.